the codex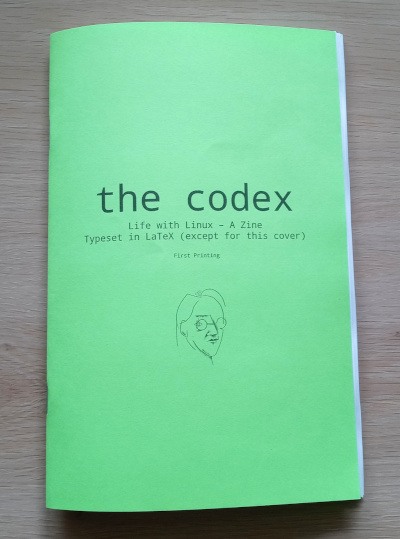 I wanted to learn how to typeset documents in LaTeX. The problem is that my brain is very project-oriented: it's not going to learn something unless I have something useful to use it on. So I decided to make a zine about Linux.
As it turns out, LaTeX is challenging, but quite enjoyable. I have two issues complete and am working on a third.
And as usual, you can buy these on Etsy or Gumroad
Follow Along!
Praise
People seem to like it: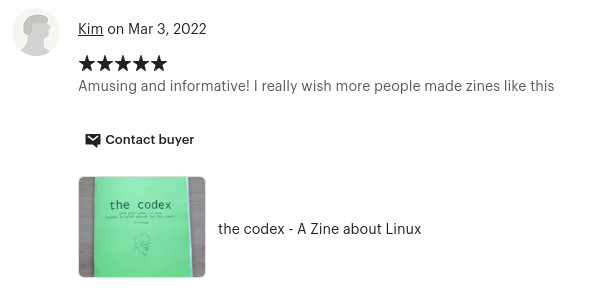 It is also very popular with felines:
Issues:
Issue #1 covers:

The Early Salad Days:

Calculators
Speaking of Watches, Timex Used to Make Home Computers
The Joy of a Trash-80

What's to Like About Linux:

Control…and an Opportunity
Knowledge is Power
The Unix Philosophy

Where does the Unix Principle actually apply in real life?
Where else does the Unix Principle not apply that it probably should in real life?
Where does the Unix Principle not apply in real life and this is actually a good thing?

What Are All Those Folders in the Linux Root?
A Scanner Darkly, but with a workflow
Is This Really a Hack? Or Is It Just a Tip?
Coda

What I Learned About LaTeX While Creating This Issue
Why LaTeX?
What's Next?
Issue #2 covers:

The Later Salad Days:

The Joy of Commodore 64
High School Computer Class

A Scanner Clearly, or More Thoughts on Being an Archivist

The Non-Computer Stuff
What Does This Have to do With Linux?
A GUI Solution

Make Life Easier with bash Aliases
What Have I Installed?

apt
dpkg
snap
flatpak
The Real Issue

What's to Like About Linux?
Ubuntu 22.04
Coda

What I Learned About LaTeX While Creating This Issue
Why I Love LaTeX